Geography Pages

Abraham's Journeys, ca. 2,000 BC
All boundaries, and borders of countries, are approximate
The territory controlled by a king or people varied from time to time, and was often disputed by other peoples. Even the coast-line has varied over the years, particularly in the Gulf of Persia. An approximation to the modern coast-line is generally used in the maps. The sites of some ancient cities are now not known with certainty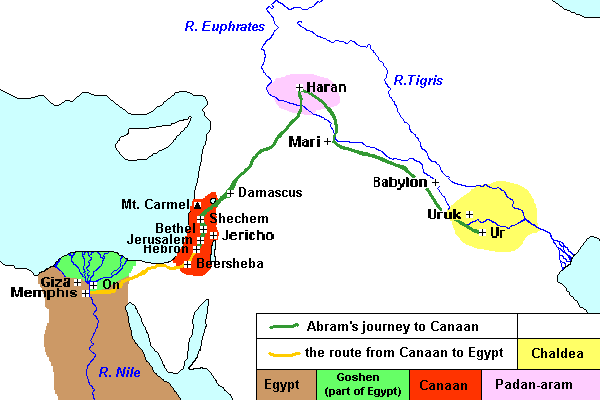 Abraham's family started out from Ur of the Chaldees and traveled to Haran. (Genesis 11:27-32)
Then God called Abram (as he was then called), and told him to travel to Canaan. (Genesis 12:1-5)
Abram built altars to God at Shechem and Bethel (Genesis 12:6-9)
During a famine, Abram journeyed to Egypt (Genesis 12:10)
He returned from Egypt, and settled in the southern part of Canaan
Because he and his nephew Lot had many flocks and herds there was not enough pasture for them to stay together, so Abram gave Lot the choice of the land
Lot chose the fertile valley of the Jordan, and went to live near Sodom (southern end of the Dead Sea)
Abram moved to Mamre (a couple of miles north of Hebron) where he built an altar to God. He made friends with "Mamre the Amorite" and his brothers, and with "Ephron the Hittite"
When Sarah died, Abraham bought the Cave of Machpelah from Ephron the Hittite for a burying place. When Abraham himself died he too was buried there. There is now a great memorial building over the cave - the cave still exists, but no-one is allowed to go inside it.


Go here for the Time-line of Ancient History
Copyright © 1999 Shirley J. Rollinson, all Rights Reserved

Station 19
ENMU
Portales, NM 88130
Last Updated: June 15, 2017